Shaker Shops West
1-415-669-7256
Accessories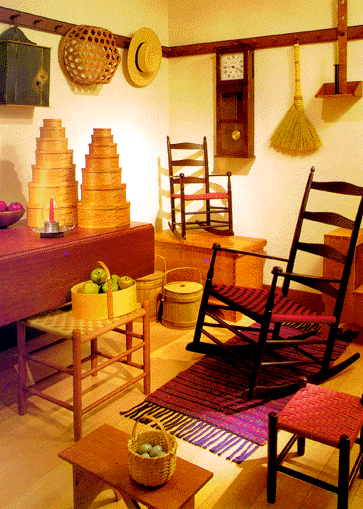 The Oval box manifested the Shaker insistence on nothing less than perfection. Our hand-made boxes and carriers are carefully measured from original patterns on display at the Shaker Museum, Old Chatham, New York. They are fashioned from Cherrywood, or Birdseye Maple, utilizing tiny hardwood dowels and copper tacks to secure the thinly-planed sides and swallowtail joints or "Fingers". The skill and patience required to produce faithful reproductions of this quality are rarely found today and these boxes could easily be confused for the originals, except for our brand mark. Each has been finely finished in natural hand-rubbed oil. A descriptive text is included.



Our original Shaker Music Box which plays the Shaker melody "Simple Gifts" is available in No.1 Cherry.
Includes lyrics ($45.00)
BXOMC



(larger view)




Item

---

Description

---

Cherrywood

---

Birdseye
Maple

---

BXO1

No.1 4 5/8" L x 3" W x 1 3/4" H

$31.00

$40.00

BXO2

No.2 6" L x 4" W x 2 1/4" H

$37.50

$47.00

BXO3

No.3 7 3/8" L x 5" W x 3" H

$41.25

$54.00

BXO4

No.4 8 5/8" L x 6" W x 3 1/2" H

$46.00

$59.50

BXO5

No.5 10" L x 7" W x 4" H

$54.00

$73.00

BXO6

No.6 11 1/4" L x 8" W x 4 3/4" H

$62.00

$88.00

BXO7

No.7 12 1/2" L x 9 1/4" W x 5 1/2" H

$82.00

$108.00

BXO8

No.8 13 5/8" L x 10 1/4" W x 5 3/4" H

$90.00

$120.00
The Shaker desire for order inevitably led to the efficient use of wall space. Clothes, clocks, cupboards, even chairs during housecleaning, were hung from the pegs that lined the walls of Shaker dwellings and shops. From the many varieties of pegboard design, we have chosen this graceful pattern. Our pegboards exactly duplicate those in the 1830 brick dwelling at Hancock Shaker Village in Massachusetts. Pegboard may be extended to fit your space requirements, and may be easily mounted with finishing nails to most walls. Install them anywhere in your home. They are also an ideal wall system for a ski cabin, beach house, or sauna. As in the originals, hardwood pegs are carefully fitted, making gluing unnecessary. This permits removal to allow secure mounting of accessories which may not fit over a fixed peg. Maple pegs included. Unfinished, ready to stain or paint.



(larger view)




Item

---

Description

---

Price

---

PE12

12" (2 pegs)

$13.00

PE18

18" (3 pegs)

$14.00

PE24

24" (4 pegs)

$17.50

PE36

36" (6 pegs)

$24.95

PE48

48" (8 pegs)

$32.00

PEP

Pegs can also be ordered without a board for ..
.. or in a bag of 100 or more for ..
65¢ea
55¢ea
Much early American furniture and woodenware, including Shaker, was painted in distinctive colors. Milk added to paint increased durability. This traditional milk paint comes in dry powder form and is non-toxic and environmentally safe. Just add water to create a paint that reproduces the authentic rough-textured surface quality and subtle color of antiques. Dries to a flat finish which may be burnished to a deeper satin sheen by wiping with oil finish. Full instructions included.
Fine tinsmithing is a vanishing art. These examples of utilitarian tinware follow patterns commonly found in Shaker rooms during the early 19th century. Attractively finished to duplicate the appearance of the originals, these decorative accents will lend brilliance and charm to any room.
"No one may enter a closet, garret, or clothes room...with a lighted lamp or candle, unless it be enclosed in a lantern".


-- Shaker Millenial Laws.

Our punched tin Barn Lanterns cast a warm patterned glow on the stormiest of nights. Candle included. Available in 3 sizes.



(larger view)




Item

---

Description

---

Price

---

TILB10
10" H
$38.00

TILB12

12" H

$41.95

TILB15

15" H

$45.15



(larger view)




Lantern with glass globe.




Item

---

Description

---

Price

---

TIHCLP
Height 8 1/2" - Diameter 7 1/4"
$28.50
In earlier times, Shaker rooms and shops were brightened each evening with the warm glow of candlelight. Inspired by early American pierced tinware, this takes a standard votive candle.



(larger view)




A beautiful centerpiece to brighten your home.

Item

---

Description

---

Price

---

MEVS
Wrought iron stand includes 11 glass votive cups,
9 1/4" H x 12 1/2" W
$39.95
Votive candles sold separately, 75¢ea
Beeswax is marvelously complex, our most advanced technology has never been able to reproduce it in the laboratory. It posesses the subtle fragrance of honey and burns longer, brighter and cleaner than ordinary paraffin wax. 100% pure beeswax.



(larger view)





Shown clockwise from upper-left
Item

---

Description

---

Price

---

ACCNBW9
Round Pillar, 9" H x 3" W
$43.75
ACCNBWHP
Hexagonal, 4" H x 3" W
$21.50
ACCNBWHL
Heart, 2 1/2" H
$15.95
ACCNBWT8
Tapers (pair), 8" L
(not shown in photo)
$6.95
ACCNBWT10
Tapers (pair), 10" L
$7.25
ACCNBWT12
Tapers (pair), 12" L
$8.25
We've simply taken a fine Shaker oval box lid with its elegant swallowtail joinery, applied a hand-rubbed finish that's water & alchohol resistant, and the result is a Cherrywood serving tray of exquisite beauty. Any size will compliment your food or beverage presentation.



(larger view)




Item

---

Description

---

Price

---

BXTOCP
Small, 13 1/4" L x 10" W
$38.00
BXTOCS
Medium, 16 1/2" L x 12 1/4" W
$45.00
BXTOCL
Large, 20 1/4" L x 15 1/4" W
$49.50
This contemporary design is based upon Shaker standards of utility and workmanship.



(larger view)




Item

---

Description

---

Price

---

ACTD
18 1/2" L x 13 1/4" W
$106.00
Candles were the principal means of illumination in the 18th and 19th centuries, and required secure and convenient storage. Boxes like these served this need, approaching perfection in the hands of the Hancock and New Lebanon Shaker woodworkers. The precise open dovetail joinery is typical. Many uses today for this beautiful cherrywood box.



(larger view)




Item

---

Description

---

Price

---

BXCN
15 3/4" L x 6 1/2" W x 5 1/2" H
$149.50
Plain and simple hardwood bowls were among the many functional items crafted by the Shakers for the "Kitchen Sisters". Each handsome bowl is turned from a solid block of hard maple and the rich integrity of the wood is preserved by a special Natural finish.



(larger view)




Item

---

Description

---

Price

---

BONS10
Bowl, approx. 10" Diameter
$28.95
BONS12
Bowl, approx. 12" Diameter
$59.75
BONS15
Bowl, approx. 15" Diameter
$99.75
Traditional steam bending skills are used to create a spring action from the wood itself. A solid brass hinge pin is the only metal used. Simply unfold the handle for use, then flip it back to transform it to its compact flat form for easy storage. The ingenious construction and design of this Kentucky-made kitchen tool would please their Shaker neighbors of earlier times at Pleasant Hill. Handcrafted in Cherry. Food-safe clear mineral oil finish. (Shown with 15" Salad Bowl, BONS15).
Our Fancy Brooms reflect variations in style found in early 19th century Shaker flat brooms (a Shaker innovation). Natural broomcorn straw is harvested, plaited onto solid hardwood handles, and bound with linen cord by American craftsfolk whose skills recall old-fashioned quality.



(larger view)




Item

---

Description

---

Price

---

BRFB
Fantail broom, approx. 15" length
$34.85
BRH
Short broom, approx. 33" length
$22.00
BRKS
Kitchen Sister's broom, approx. 52 1/2" length
$49.75
BRHB
Hearthsweep broom, approx. 28" length **
** (with multi-color bristles only)
$58.00

* Brooms are shown from left to right
---
Welcome to Shaker Shops West
Ordering Information .. The Shaker Heritage .. email us

Chairs & Rockers .. Trestle Tables .. Benches, Stands, & Step Stools
Classic Shaker Maple Beds .. Dressers, Mirrors, & Nightstands
Wardrobe Cabinets, Writing Desks, & Storage Towers
Cedar-lined Blanket Chests

Accessories -- lanterns & votives, kitchenware, milk paints, pegboards, & more


---